A favorite feature added to PowerPoint 2007 is the design theme. This lets you quickly modify your slides by changing templates, color schemes, and fonts.  It opens the doors to thousands of quick customizations.
Today, I'd like to share a free PowerPoint add-in that lets you expand your color scheme options.  It's built by Shyam Pillai, the same guy who gave away the free animation add-in I featured in the blog post, PowerPoint Animations Made Easy with This Free Tool.
Quick Look at Color Schemes
Starting in PowerPoint 2007, you get a bunch of built-in color themes.  These are handy because with one click you can change multiple colors in your slides.  In fact, I usually build my PowerPoint templates with the color themes in mind.  I start with the default color scheme and then when I want, I can quickly apply a custom theme.
How to Get More Power Out of the Custom Color Schemes
One of the challenges with the custom color themes is that you're limited to twelve colors.  But what if you have a color scheme that requires more than twelve?  Well that's where this free PowerPoint add-in comes in handy.
PowerPoint MVP Shyam Pillai shares a simple add-in that lets you create your own custom color schemes.  Basically, here's how it works.  I also included a tutorial below if you want to see it in action.
First, you create a swatch of colors based on the current color scheme.  This produces a slide that contains all of the colors assigned to the current themes.  It even gives you the RGB values.  By itself this is a handy tool because you could print it out and save as a reference document.
The power of this add-in lies in the blank objects.  You'll notice that there are twelve additional swatches.  This is where you can add your additional colors.  Add your colors to the shapes; give them titles; and then click on the "Apply Swatch to Color Theme" button.
The color theme gets updated and the extra twelve colors are assigned to the custom color palette.  This is a great way to add your organization's brand to the color scheme, as well as any other colors that you may be able to use for accents or miscellaneous shapes.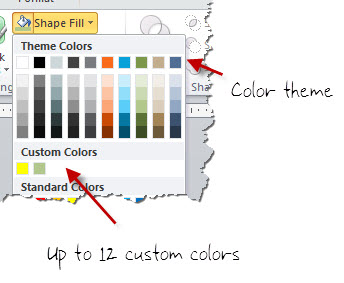 This color theme add-in makes working with your themes easy.  First, updating all of your colors with a single click is simple.  And then being able to add a host of additional colors is a plus.
Here's a quick tutorial on how to use the color scheme add-in.
Click here to view the color scheme tutorial.
I can see where this would be useful for custom color schemes around corporate branding.  All you do is create a single color scheme that's built into the template taking all of the guess work out of the process.  Being able to add additional colors is nice because you can include accents to augment elements of the organization's branded colors.
How would you use this is add-in?  Feel free to share your thoughts by clicking on the comments link.
---
Upcoming Events (2015)
Vancouver & Toronto Workshops: We're planning a couple of workshops in Toronto & Vancouver. If you're interested, let us know. Click here for more details.
March 25-27 (Orlando, FL). Learning Solutions. Swing by the Articulate booth to say "Hello."
April 15 & 16 (Chicago, IL). Updated! Register for one or both days. 
Day 1: How to Build Interactive E-Learning 
Day 2: Use Articulate Storyline to Build Interactive E-Learning
May 17-20 (Orlando, FL). ATD International Conference & Expo. Swing by the Articulate booth to say "Hello."
June 3 & 4 (San Francisco, CA). Updated! Register for one or both days. 
Day 1: Learn to Create Your Own E-Learning Assets
Day 2: Use Storyline to Build Interactive E-Learning
June 12 (Austin, TX). Use Storyline to Build Interactive E-Learning. Registration page coming soon.
Other locations include: Philadelphia, Memphis, Atlanta, Vancouver, and Toronto.
---
E-learning Community News

19 responses to "How to Create Color Schemes in PowerPoint to Match Your Brand"