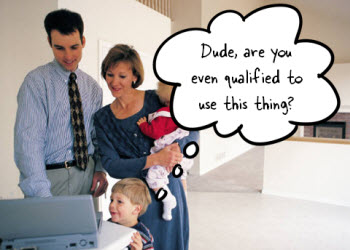 In a recent post I made this comment about rapid elearning tools:
Rapid elearning played a role in the evolution of elearning mostly because it took course creation out of the hands of a few programmers and placed it into the hands of anyone who wanted to create a course.
Someone asked if that's a good thing to place the tools in the hands of anyone who wanted to create a course. It's a good question. But is it the right question?
Technology Should Be Easy to Use
It's a good thing when technology gets easier to use. It empowers people to do more and it creates opportunity for the ones using the tools.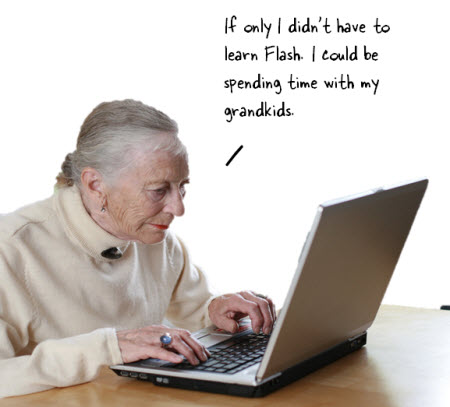 A few years ago only a programmer could build even simple drag & drop interactions. If you didn't have the skills you couldn't use them in your courses. So that level of interactivity wasn't even a consideration in course design. Today, a drag & drop interaction can be built in seconds.
Does it mean that I am a better instructional designer? No. Does it mean that having a drag & drop interaction is going to make my course better? Not necessarily. But it does mean that I am able to do something I couldn't do before. And that only creates more opportunity for my course design. And that's good.
When is a Course Not a Course?
We may say "elearning course" but it's a term used loosely. The rapid elearning tools create all sorts of interactive multimedia that are not exclusively "elearning courses." I see the tools used in various industries for more than course design.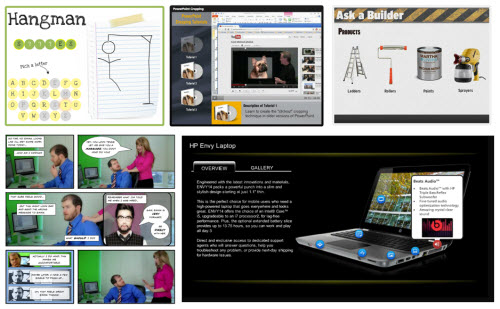 Here are some examples created in Articulate Storyline:
As you can see, each example is a bit different and not all are what we'd call "elearning." Thus the qualifications to use the tool aren't always about instructional design.
A Tool's Just a Tool
Whenever this topic of elearning tools comes up someone pulls out a tool metaphor (pick your tool, but it's usually a hammer, saw or wrench).
Because you have a hammer/saw doesn't make you a carpenter.
When you have a hammer everything looks like a nail.
I keep pounding nails with my [insert tool] because it's the only tool I have.
You get the idea. They're fun metaphors and do illustrate some truth; but they fall apart quickly.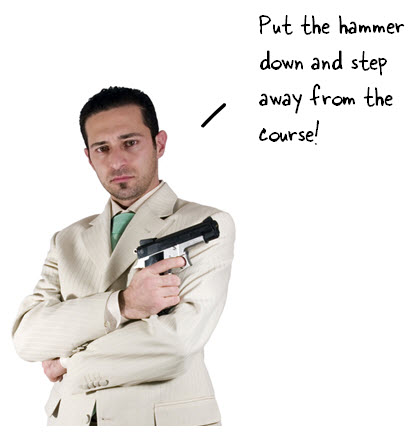 I have a hammer and I use it even though I'm not a licensed carpenter. Sometimes I just need to hang a photo or do some light carpentry. I don't need to wait until I have to build a house to use a hammer. The one tool can meet the needs of people at many levels. The same goes for elearning. There are all sorts of reasons why people use rapid elearning applications.
I'd hate to think that there's some elitist blocking my entry into Home Depot because she's deciding if I'm qualified or not to use a hammer. Do you know who'll decide my qualifications? The person that sends me a paycheck, not someone standing on her soapbox.
Operating at the Speed of Business
Just today I was talking to a friend of mine who's an executive recruiter and teaches interviewing skills. He's a great subject matter expert and has some really good content that he'd like to turn into elearning courses. The problem is that some of the bids he's gotten are outlandish.
Years ago getting his product to market wouldn't happen. But today he has the option to build his own course or hire part of it out. He may not build a course that rivals what a pro shop would do, but he can build a course that will find an audience.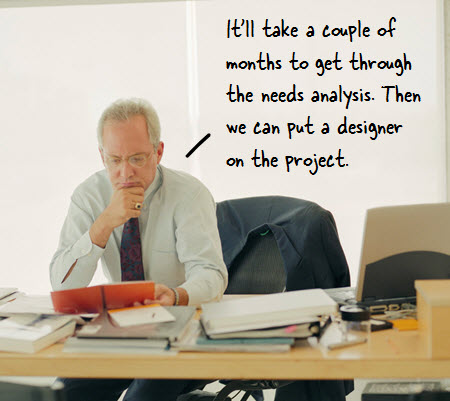 Here are some other examples I've seen where organizations benefit from having the rapid elearning applications available to more than just "qualified" people:
A dentist who creates his own videos on tooth care and then uses Articulate Engage to offer some information to his patients. He can do that all on his own. In the past, that would have cost him thousands of dollars.
A car dealership creates simple tutorials on car maintenance and makes them available to their customers. This helps educate the customer on what happens when the car's being repaired. The tutorials are created by the staff mechanics.
An organization had a couple of workplace deaths. To understand what happened, a team flew to the location to investigate. All of the accidents involved people taking safety shortcuts. So they shot some video, did interviews, and created a quick refresher course on safety. It was assembled and delivered in just a few hours. This was unheard of a few years ago.
Those are some simple examples of how organizations are able to use the rapid elearning tools to create the products they needed when they needed them. They worked at the speed of business and within the constraints that existed and delivered viable solutions.
Should Everyone Build Courses?
To be fair the essence of the question really isn't about the tools. It's more about the courses that are being created and who should be creating them. It's fair to say that just because you have the tools doesn't mean you're going to build good courses.
At the same time, just because you don't have any formal qualifications doesn't mean you can't build good courses. I've been around this industry long enough to see plenty of bad courses created by "qualified" people and good courses create by the layman.
I prefer to focus on helping people get better. So if you're one of those unqualified souls and want to learn more about building elearning courses, here are five recent posts that move in the right direction:
On top of that connect with your peers in the elearning community and read some good books. And of course you can always go to school to get more formal education and then volunteer to gain more experience.
The argument about the tools and who should use them will continue. Personally I lean on the side of empowering people and prefer to leave the debates to conference panel discussions. Sure some people won't build good courses. That's OK. It creates an opportunity for trainers, consultants, freelancers, and anyone else that can fill the gaps.
What do you think? Feel free to share your thoughts using the comments link.
---
Tidbits
Just posted some details about the Seattle workshop and I'll be doing some Storyline workshops over the next few months. It's a great way to learn more and get some hands-on instruction. They're also the least expensive way to learn Storyline. Plus, we'll give away some assets that more than pay for the workshop.
Upcoming Events
May 17: Costa Mesa, CA (ASTDOC). Two workshops in one: Rapid E-Learning Workshop and Getting Started with Articulate Storyline. Sold out.

May 22: London, UK. I'm doing a full-day elearning workshop and looking forward to meeting the blog readers in the UK.

May 24: Leeds, UK. This is the annual Articulate users' conference hosted by the University of Leeds. It's a great way to connect with other Articulate users.

June 27: Baltimore, MD (UMBC). Build Engaging & Interactive Elearning Courses. Limited seating so sign up as soon as you can.

July 18: Knoxville, TN (Smoky Mountain ASTD). Two sessions: Become a Rapid E-Learning Pro and Create Interactive & Engaging E-Learning with Articulate Storyline.

July 25: Portland, OR (ASTD). Learn to Use Articulate Storyline. Great price. This one will sell out.

July 31: Austin, TX (ASTD). I'll be in town so the Austin ASTD is hosting a free Articulate jam session. Details to follow.

August 15 & 16: Houston, TX (ASTD Houston). Two workshops: Rapid E-Learning Design and Getting Started with Articulate Storyline.

September 27: Boston, MA (ADAPT). Details coming.

October 4 & 5: Seattle, WA (ASTDPS). October 4: Rapid E-Learning Workshop & October 5: I'll do a session at the Ignite Your Mojo Conference.

October 17: Bloomington, IL (CIC-ASTD). Details coming.

October 23 & 24: Milwaukee, WI (SEWI-ASTD). Three Sessions: PowerPoint's No Longer a Slide Show Freak and Practical Approach to Building Successful Communities (October 23) and Articulate Storyline: Advanced E-learning Made Simple (October 24). Details coming.

November 14 & 15: Chicago, IL Details coming.
55 responses to "Are You Qualified to Build E-Learning Courses?"