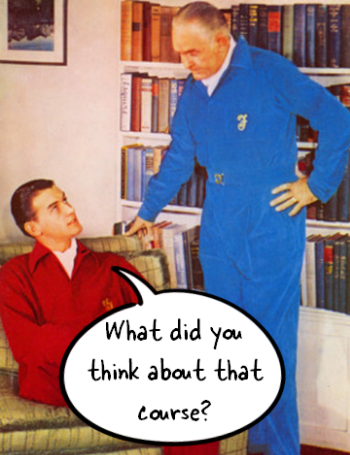 One of my favorite parts of going to elearning conferences is meeting so many of the industry's thought leaders. During my recent trip to the Learning Solution Conference in Orlando I ran into one of my mentors and a real elearning pioneer, Dr. Werner Oppelbaumer.
I was able to get some time with him for a brief interview. We discussed the industry and where he sees things going. I also asked for a sneak peek at some of his innovative technology research.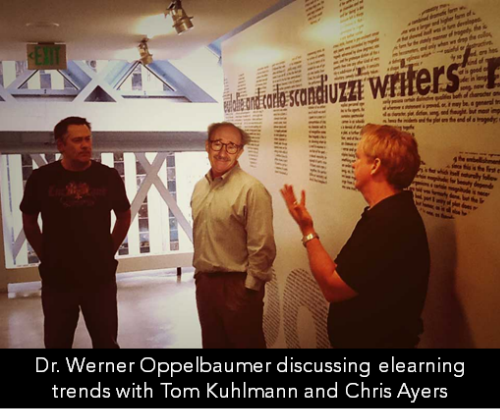 Lots of elearning people are using Twitter. What do you think about Twitter and social media, in general?
Werner: I am a big fan of social media, especially in the work place. It's a great way to keep lazy people busy. They used to distract others with their long water cooler conversations and endless barrage of help for every little thing. This impacted the bottom line because they consumed the time and resources of more productive people.
Now with Twitter they are able to sit at their desks and feel like they are making an important contribution to humanity as they share all the important information that busy people are missing because they are working.
Ok…let's talk about opportunities. What are you excited about?
Werner: Even if times are tough there are always opportunities. We've seen lots of improvement in our industry with technology like rapid elearning tools.
But learning is much more than multimedia technology. For years we've focused on desktop technology and then we looked at mobile. But what have we missed?
Clothes! And it's been there right in front of our eyes for years.
We hypothesized that most people wear clothes when participating in an elearning course. And our studies have proved us right. Based on our findings, 87% of elearners wear clothes while taking their courses. Surely there's an opportunity there with this huge untapped market.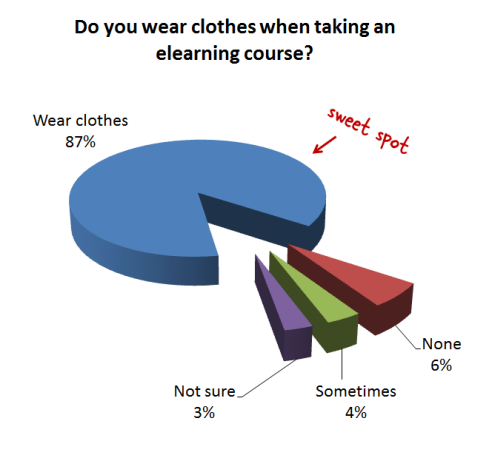 We did some digging and sure enough, there is ample opportunity. Our studies are showing a direct correlation between successful knowledge transfer and what people wear. There's a lot to learn about the emotional connection between clothing and the learning experience.
We immediately began to prototype some ideas that we think will push our industry forward. Here's a quick tour of what we are currently working on in our research labs.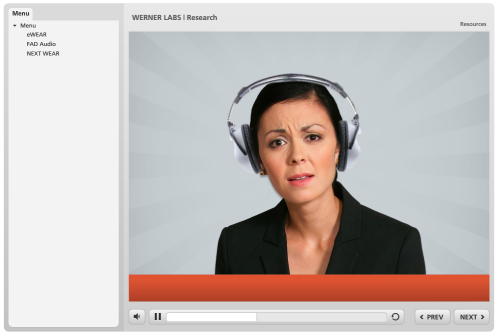 Click here to view the research lab demo.
That's fascinating. Thank you Dr. Werner for sharing your expertise and letting us take a sneak peek at the future of elearning.
---
Tidbits
I'll be in Portland this week. There are a few seats left. Sign up before it's too late!
Upcoming Events
April 5: Portland, OR (OpenSesame). An E-Learning Heroes Roadshow workshop where we'll look at ways to build elearning courses and learn some great PowerPoint tips. Excellent price and great coffee!

April 10: Jacksonville, FL (NEFL ASTD). Rapid E-Learning: From Blah to Hoorah! Feel free to contact the chapter if you have questions. Join me for the free Articulate jam session on April 11.

April 17: Virginia (SEVA ASTD). Rapid elearning workshop. The first half we'll look at some basic course design and in the second half we'll learn to build interactive content. Working on a free Articulate jam session for this event.

May 17: Costa Mesa, CA (ASTDOC). Two workshops in one: Rapid E-Learning Workshop and Getting Started with Articulate Storyline.

May 22: London, UK. I'm doing a full-day elearning workshop and looking forward to meeting the blog readers in the UK.

May 24: Leeds UK. This is the annual Articulate users' conference hosted by Leeds. It's a great way to connect with other Articulate users.

June 27: Baltimore, MD. Details coming.

July: Knoxville, TN (Smoky Mountain ASTD). Details coming

August: Houston, TX (ASTD Houston). Details coming

September 27: Boston, MA (ADAPT). Details coming.

October 4: Seattle, WA (ASTDPS). Details coming.

October 17: Bloomington, IL (CIC-ASTD). Details coming.

October 23 & 24: Milwaukee, WI (SEWI-ASTD). Details coming.

November 14 & 15: Chicago, IL Details coming.
25 responses to "Want E-Learning Success? Make Sure Your Learners Are Dressed For It!"