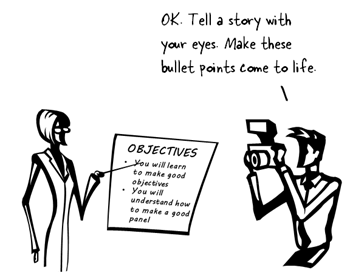 The other day I was doing a search for business meeting images and ran into this collage image. It kind of looks like a comic book layout. I played around with some ways to use this image in an elearning course.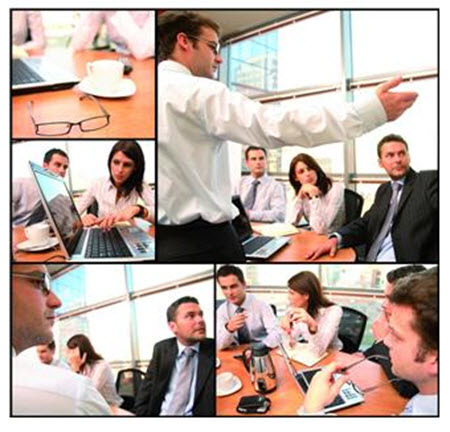 Here's a quick demo of the image converted into an interactive slide. I just added some place holder content since the images are not contextual. But in your case, you'd create a collage where the images work together to tell a story.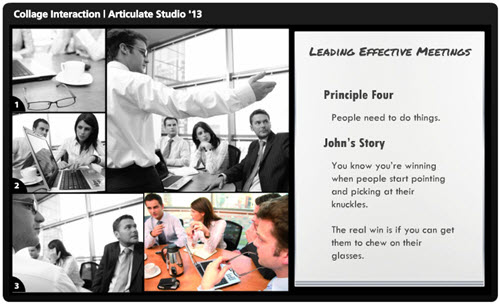 Click here to view the interactive story demo.
Tips & Tricks for Creating an Interactive Story
Here are a few ideas on how you could approach this type of interaction:
This is a simple technique but and an easy way to convert bullet point slides into something a bit more visually engaging. And with a little effort you can frame the information into something more story-like and interactive. It's a step away from a content dump and a step into meaningful content.
What do you think? Would this work with any of your elearning courses?
---

Weekly Updates
Community Blog Posts & Tutorials
Upcoming Events & Workshops
March 19: Sydney (iDESIGNX): I'm excited to attend my first conference in Australia. Looking forward to meeting many of the blog readers there. I'll also be in town for two days of workshops. Sign up before it sells out.

April 9 & 10: Indianapolis (ASTD). Limited seats for this one.

Day 1: Introduction to Articulate Storyline

Day 2: Advanced Interactive Challenges Using Articulate Storyline

May 20 & 21: Fargo, ND (ASTD). Details coming.

Day 1: PowerPoint for E-Learning

Day 2: Build Interactive E-Learning with Articulate Storyline

June 11 & 12: Lincoln (ASTD). Details: PowerPoint's No Longer a Slideshow Freak & Getting Started with Articulate Studio '13. Sign up for one or both days here.

October: Dallas (ASTD). Details coming.

More to follow.
---
Post written by Tom Kuhlmann
18 responses to "Here's a Simple Way to Convert Your Course to an Interactive Story"